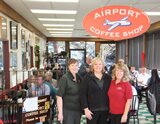 The Airport Coffee Shop was owned and operated by Barbara and Jon Mitchell for 28 years. When it was time for Barb to retire her rolling pin, it was natural for Judi Good to take over.


      Judi had worked for Barb and Jon for 13 years and learned the business very well. She knew she couldn't do it alone so she enlisted her two sisters, Jacqueline and Tracey, formed a partnership and bought the business in September 2008.
      "We grew up working in our parent's restaurants and catering business in Stonewall, Manitoba and Hope, B.C.," says Judi. "This allowed Mum and Dad to take a vacation or two." Judi, Jacqueline and Tracey learned the importance of following in past footsteps with good food, affordable prices and mouth watering pies.
      "Yes Barb Mitchell taught us the business of pie making and passed on the recipes, " says Judi "Altogether we make 60 assorted pies and cheese cakes. It may be called a Coffee Shop, but we provide full course meals, made the old fashion way, including homemade soups, delicious salads and everyday specials."
      Drive or fly in and have a delicious meal and a piece of amazing pie. The staff at the Airport Coffee Shop will be waiting for you.